Shopping Basket
Your Basket is Empty
There was an error with PayPal
Click here to try again
Thank you for your business!
You should receive an order confirmation from Paypal shortly.
Exit Shopping Basket
Commercial Glass Repair & Installation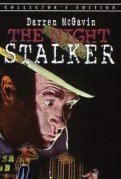 The Night Stalker (1972) - "Tell Yourself, Wherever You May Be... It Couldn't Happen Here..." The Ten Best Quotes
Directed by: John Llewellyn Moxey
Screenplay: Richard Matheson
Story by: Jeff Rice
Starring: Darren McGavin; Carol Lynley, Simon Oakland, Ralph Meeker
This is it, Baby. A true horror story. As far as I'm concerned it's the granddad of today's (mostly crappy) vampire genre. It's hard to believe that this was actually a television movie of the week. I remember watching it on the living room floor with the entire family. I also remember being scared @#$%less, even with the commercial breaks. The Glass Dude (me) watches this one every once in while at the
glass repair
company where he works when business is slow. It's an all-time spooky classic.
As far as I can tell this is one is one of the first truly "shock" horror movies that uses editing techniques that are the cornerstone of virtually all current horror flicks. Not to mention the use of the unique, funky, jazzy, creepy soundtrack. The shots of an early 70's Las Vegas Strip are priceless to a long-time regular such as myself.
The following are some of the best quotes:
* "This is the story behind one of the greatest manhunts in history ..." - Carl Kolchak
* "... Judge for yourself its believability and then try to tell yourself, wherever you may be... it couldn't happen here." - Carl Kolchak
* "Rumor has it that the day Anthony Albert Vincenzo was born his father left town. The story may be apocryphal, but I believe it. The only part I wonder about is why his mother didn't leave too..." - Carl Kolchak
* "Something of a pattern was begin to form... and it was ugly." - Carl Kolchak
* "Do you believe in vampires, little boy?" - Bernie Jenks
* "If Macurgi had insisted that the murders had been committed by a giant butterfly, he couldn't have made more sparks." - Carl Kolchak
* "Keep your nose clean, Son. Stay out of other people's business. It's healthier that way..." - District Attorney Paine
* "If there's a screwball running around loose in Las Vegas, his last name begins with K! - Tony Vincenzo
* "How about a special featurette with a border of roses? An interview with the two girl victims, in Heaven, with a celestial choir in the background???" - Carl Kolchak 
* "That is NEWS, Vincenzo! NEWS! And we are a NEWS-paper! We are supposed to print the news, not suppress it! - Carl Kolchak
* "Kolchak, you are an idiot..." - Vincenzo
* "All my life I waited for a story like this. All my life! And when it finally comes I can't get it printed!" - Carl Kolchak
* "Captain, you have two choices. Either he was shot or your entire police department is blind." - Carl Kolchak
* "Yes, Gentleman, it looks as if we have a real, live vampire on our hands..." - Carl Kolchak
* "Kolchak, you're one hell of a reporter." Vincenzo
* "So think about it, and try to tell yourself, wherever you may be - In the quiet of your home, in the the safety of your bed - It couldn't happen here..." - Carl Kolchak
It is amazing how well this movie still holds up after some forty+ years. Still scary. Still great. A shout out to Jeff Rice who wrote the original story.
Trivia: This was the highest rated single-night TV-movie for ten-plus yeas until it was topped by ABC's The Day After (1983)
Tags: The Night Stalker; The night stalker television movie; Carl Kolchak; Night Stalker movie, Vampire movie; The night stalker TV series; Richard Ramirez; Darrin McGavin; Night Stalker, Kolchak: The Night Stalker, Night Stalker Trivia
Remember, The Glass Dude Abides...

Atlas
Glass Repair
Company
2000 Hamilton Street
Philadelphia, Pa 19130
215-432-8487
/